Pyeongchang, the site of the 2018 Winter Olympics, may be little known in this part of the world, but that's probably about to change.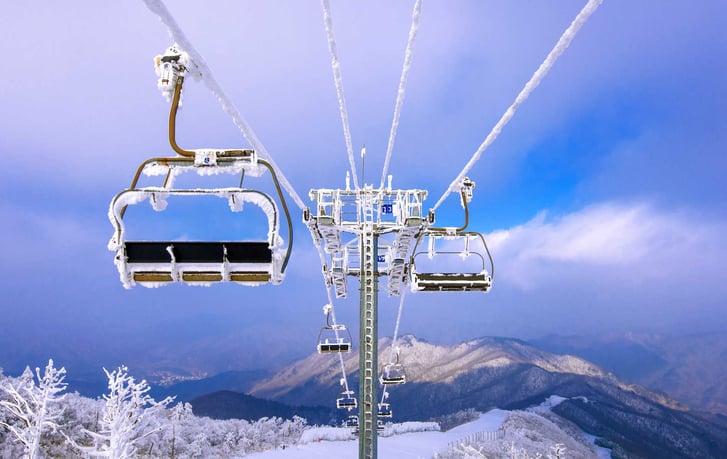 Ski lift covered in snow, Korea
In 1933, in the middle of what's now known as Korea's colonial period, a writer named Lee Hyo-seok joined eight others to form the Group of Nine, an informal collective devoted to writing about beauty, love, music, anything but politics.
To Koreans of the time, and since, it was no surprise that Lee's most famous piece from this movement, a story called "When Buckwheat Flowers Bloom," was set in Pyeongchang, a county known as one of the nation's most beautiful.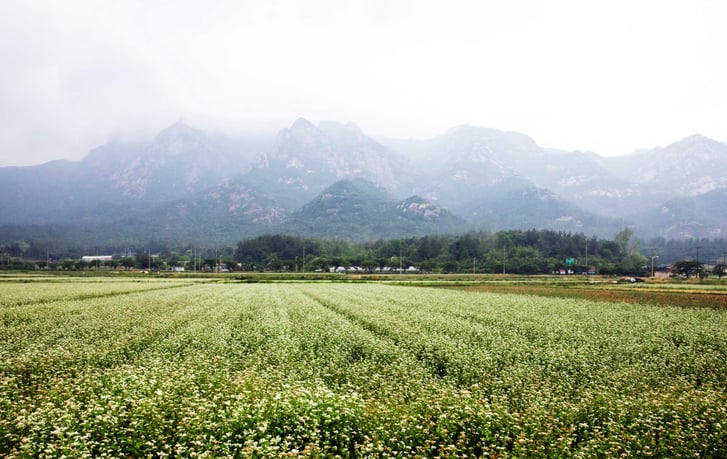 A field of buckwheat flowers
"Suffused in moonlight," Lee wrote in 1936 in his story of an itinerant salesman hiking beside his beloved donkey from market to market, "the bean stalks and corn blades looked even more blue. The whole surface of the hillside was buckwheat fields; clouds of new-blown flowers, as serene as sprinkled salt, were suffocating under the warm moonlight. Beside the red stalks of buckwheat, frail as fragrance, the donkey's gate was unusually light."
Pyeongchang, the name of both a country and its main city (known as Pyeongchang-eup and Pyeongchang-gun respectively), is to South Koreans what Luzern is to the Swiss, or Telluride to the Americans or, more to the point, what Chamonix or Grenoble are to the French. It's the part of the country people go when they want to get away and immerse themselves in natural beauty.
At the end of the summer, buckwheat season, there's a popular annual festival, held in Lee's honour, when people gather to smell the blossoms and eat noodles and drink liquors made from this Korean staple.
But it's also where people go, a little later, to watch the leaves turn colours and hike the many paths, flat and alpine, scattered about the place.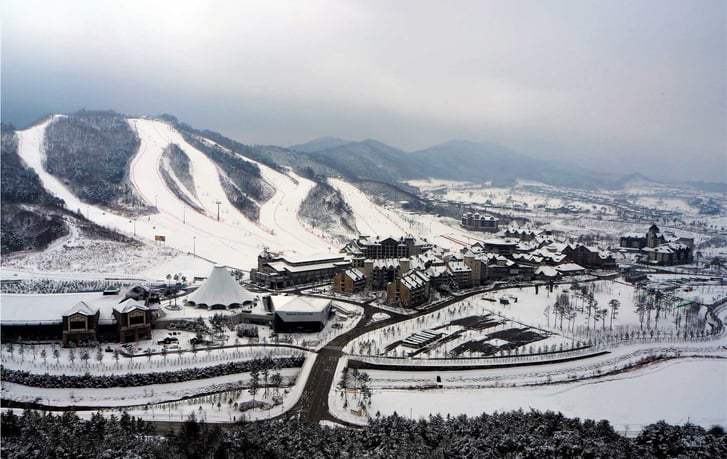 The Ski Jumping Center in Pyeongchang
But the world is about to be introduced to winter in Pyeongchang. Home to three major ski resorts, this is where Koreans go to ski and, increasingly, to snowboard. Though the highest peaks are under 2,000m, the slopes are plentiful, with the largest resort, Yongpyong, offering 31 runs.
The other two, Phoenix Park and Alpensia, have seen serious upgrades in recent years (Alpensia was in fact purpose built for these games), and in the best Olympic tradition, the 2018 games have inspired two major investments in infrastructure, both speed-related.
First, they hope to have a 5G cell network up and running by the opening ceremony, which would allow people to use their Olympic-related apps at up to 20Mbps.
They're also connecting Pyeongchang to Seoul by high-speed rail, known as KTZ, that will reduce the travel time from almost 6 hours to less than 2, putting 10 million people in day-trip distance from what's sure to become a much bigger, busier place after the Olympics.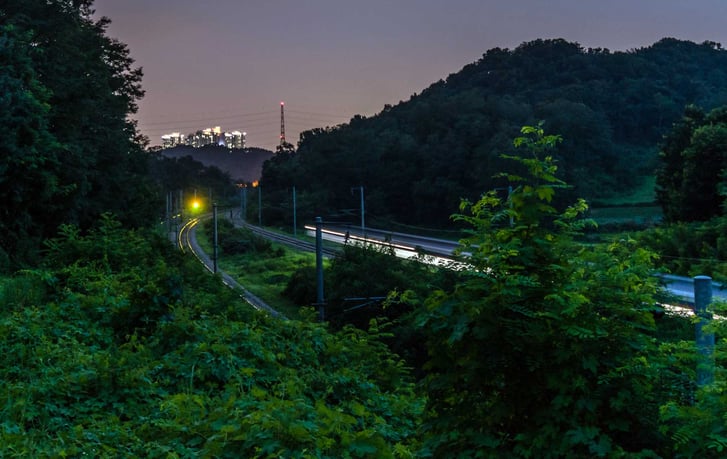 High speed rail tracks, Korea
But as the names of the newest resort implies, Pyeongchang is turning outwards in an effort to put itself on the global winter sports map, a spot for skiers and snowboarders who've done Whistler and Zermatt to discover.
And that may be the biggest to come out of these Olympics. Though the Winter Olympics have been held in Asia twice before, both times were in Japan, and this expansion outwards could expand people's own horizons.
Though North Americans and Europeans have no trouble with long-haul travel, they tend to stay closer to home when it comes to winter sports trips. North Americans may go to Europe, and vice versa, but very few consider traveller farther afield.
Both Nagano and Sapporo, sites of the 1998 and 1972 Winter Olympics respectively, have experienced big jumps in winter tourism in the years since, but Pyeongchang could very well bring about a paradigm shift, opening people's eyes to Asia – China included, where people have been skiing, according to recent archeological discoveries, for about 10,000 years – as a place to ski and spend some quality winter time.
One of the best things about ski travel – aside from the skiing – is the cultural immersion.
A temple amidst the snow in Pyeongchang
Everyone does ski resorts differently. In Norway site of the first organized ski tour open to the public, skiing tends to be pragmatic. It's how a lot of people get around there, after all, and though people enjoy alpine skiing, it's more like hopping on a bike than the big production it is elsewhere.
Until recently, when global warming has made its slopes less reliable and made hoteliers turn to increasing levels of luxury to entice guests, Swiss skiing was a modest affair, the hotels tended to be classic chalets, the rooms utilitarian, the food basic. People were there to ski, after all, not lay about. This contrasts with American and Canadian approaches, which have long been deluxe in the Rockies, with each nation's most expensive real estate clustered around Whistler and Aspen.
There's also always a cuisine associated with individual ski cultures. In Switzerland, there's fondu and meringues dipped in heavy Gruyere cream. The French often like a tartiflette, a Savoyard potato, onion, and cheese dish to warm them up after a few runs.
As you might expect from the country that gave us K-Pop, Korean ski culture is a bit different.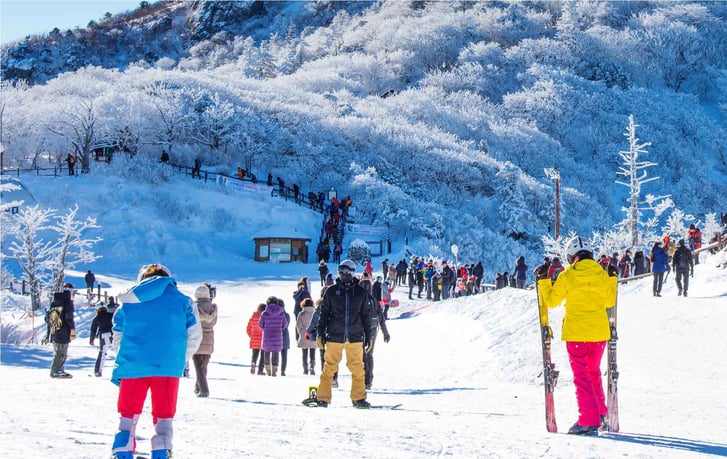 Skiers and snowboarders in South Korea
Midnight skiing in neon-coloured outfits with a big emphasis on tricks and high energy socializing. The BBQ is plentiful, and people tend to spend an awful lot of time in jjimjilbangs, the public bath-houses that form a culture all their own.
There's a whole cuisine associated with jjimjilbangs. You can sip Miyeokguk, a seaweed and mussel soup, drink iced sikhye – a sweet drink made with barley and rice -- and even cook what are known as jjimjilbang or sauna eggs, really just hard-boiled eggs cooked in the hottest sauna rooms. To cool down, there's patbingsu, a shaved ice dessert made with azuki beans.
And then there's soju, which in winter resorts like this tends to be served hot, in soju kettles.
After these Olympics, who knows? It could be the new hot chocolate.